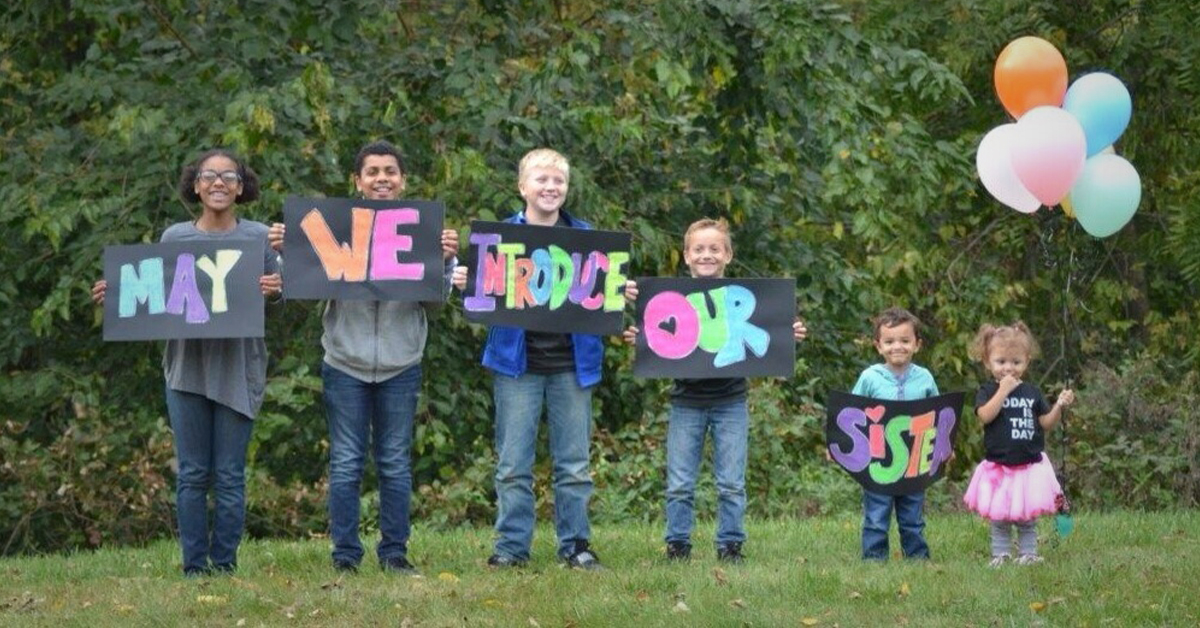 When the call came to foster parents Katie and Alvin Harley, the request was simple and direct: We have a baby, can you take her? But for Katie, that simple request began a day she'll never forget – and prompted a picture that captures the joy that comes from a foster family's love.
"When the KidsPeace office called to ask us to take in Liliana, we said yes right away," Katie remembers. "When they arrived, there were two staff members in the car – one to drive, and the other to keep the baby alert and breathing until they got to our house."
Liliana was a victim of severe neglect; for the first four months of her life she was left in dirty clothes and unsanitary conditions all day and never learned to properly nurse or take a bottle (at one point, Katie said, caseworkers had to remind her biological mother that she needed to pick up and hold the baby when feeding her). As a result, she was severely delayed in her development by the time she reached the Harleys.
"She was four and a half months old, but she looked like an infant. I'll never forget how limp and still she was when I first held her. We asked when she had last eaten, and they said just go ahead and give her a bottle. She took that first bottle like she hadn't ever eaten before…"
"She had reached none of the normal developmental milestones for a child her age, and she showed no spark, no interaction with others. We started right then and there to show her the love that a family can provide, and suddenly at 18 months she came alive – showing off her wonderful personality and bonding within our family. All the doctors and therapists were amazed at how far she had progressed."
A big part of Liliana's advancement, according to Katie, was the support and love of her new siblings. "Everybody talks about the foster mom and dad, but the other kids in the family are just as important. I can't say enough about what it meant to Liliana to have sisters and brothers teaching, loving and accepting her through all the doctor's appointments and foster staff visits.
"I wanted to show that when we celebrated her adoption. So a friend and I made up the signs and we had them pose with her, to highlight that they all have been a big part of how far she's come to be one of the family."
In the photo above (left to right) Maya, Levi, Mason, Jack and Noah – along with Liliana, who on October 11 was adopted by Katie and Alvin after more than 800 days in foster care.
"When people ask us about becoming foster parents, we make sure to tell them you don't need medical or therapeutic training," Katie said. "You just have to be able to give these kids the love they need to grow – and that comes from the whole family."