SERVICES OFFERED: 
KidsPeace Foster Care and Community Programs (FCCP) in Danville offers foster care to children of all ages.  In addition, KidsPeace Danville is a licensed adoption agency and an affiliate of the Statewide Adoption Network (SWAN).  Other services offered may include Kinship Foster Care, Family Group Decision Making, CRRHH (Community Residential Rehabilitation Host Home), or counseling in the community.  Please feel free to contact our office directly for additional details about any of these services!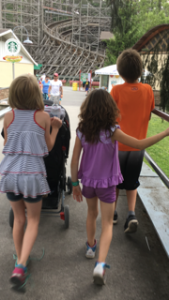 On June 22, nearly 500 foster children with their families were able to spend the day together at Knoebels Amusement Resort.  Knoebels is a family centered amusement park nestled in a beautiful setting in Elysburg, PA, and featuring several award-winning roller coasters and attractions!  Once again they very generously sponsored all the foster children and their foster families in the Danville, Pottsville, Williamsport, Scranton, Honesdale, Reading, and Bethlehem KidsPeace foster care offices, providing all-day ride passes and food coupons to enjoy!
Some of the foster children had never been to Knoebels before so it was an awesome first time experience for them. Pictured are some of the children anxiously gazing upon "The Phoenix" roller coaster, one of Knoebels' most famous and popular rides.  They could not wait to ride this award winning wooden roller coaster!
This is the fifth year that Knoebels has very generously sponsored this event for our families and we continue to appreciate their generosity and passion to bringing smiles to the faces of all the children in our programs!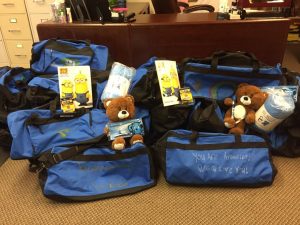 Hummel's United Methodist Church's Sunday school class coordinated with Together We Rise to decorate "Sweet Bags" for the foster children in the Danville FCCP office.  Together We Rise is a non-profit organization that helps provide children in foster care with duffle bags with the goal and hope of eliminating the need of a trash bag for them to pack their belongings in.
Nicole and Matthew Harris wanted their Sunday School children to learn the value in helping those in need, so they contacted Together We Rise and the organization donated 30 duffle bags that are full of items such as educational materials, a stuffed animal, and hygiene products.  Nicole and Matthew said the children in their class really got involved and truly enjoyed this project.  Each child created a message such as "You are Amazing!" and "You Rock!" and decorated each bag.   All the bags were delivered to every child in the Danville FCCP program and they were very appreciative of this kind gesture!
We are very grateful for Nicole and Matthew's efforts and reaching out to help the children in our program!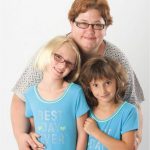 Kristy Wright, a foster parent from our office in Danville, was faced with a common question — what's a mommy? And she's answered that question in a new book for kids. Learn her story, and how she's helping our office's efforts, in the fostercare.com blog. CLICK HERE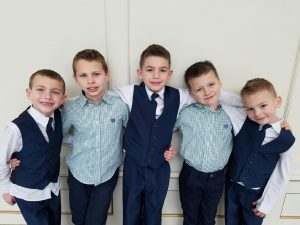 On February 16, 2017, the KidsPeace Danville office was proud to see brothers Kenny, Keith and Kyler find their forever family with their aunt and KidsPeace foster parent, Courtney Cunningham.  Kenny, Keith, and Kyler were placed in foster care with another agency in July 2014 but remained in contact with their aunt.  Courtney made the decision that she wanted to care for her nephews and give them the loving home that they needed.  She became a foster parent with the KidsPeace Danville office and was able to finally have the boys move in with her and her two sons in June 2015. 
It was an adjustment having five boys in her care but it was well worth it.  She quickly got the boys involved in different activities and they started to flourish.  The boys experienced some trauma and had a lot to overcome but Courtney was willing to do whatever she needed to get them appropriate care. Through all their challenges, the boys remained happy because they could be with their Aunt Courtney.   
February 16th was a day that the Cunningham family will never forget – adoption day!  Courtney, Keith, Kenny, Kyler, and her two sons were at the adoption hearing — along with their KidsPeace Caseworker, Tony Gold.  The boys were so happy that Tony could be there on the happiest day of their lives! 
After the hearing, all five of the boys posed for a picture: (left to right) Liam, Caiden, Keith, Kenny, and Kyler. Their smiles show that Aunt Courtney has given them the best gift of all, hope for a better life.