SERVICES OFFERED: 
KidsPeace Foster Care and Community Programs (FCCP) in Danville offers foster care to children of all ages.  In addition, KidsPeace Danville is a licensed adoption agency and an affiliate of the Statewide Adoption Network (SWAN).  Other services offered may include Kinship Foster Care, Family Group Decision Making, CRRHH (Community Residential Rehabilitation Host Home), or counseling in the community.  Please feel free to contact our office directly for additional details about any of these services!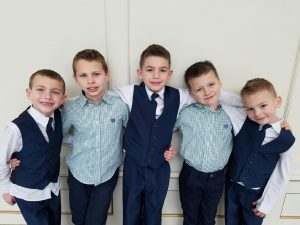 On February 16, 2017, the KidsPeace Danville office was proud to see brothers Kenny, Keith and Kyler find their forever family with their aunt and KidsPeace foster parent, Courtney Cunningham.  Kenny, Keith, and Kyler were placed in foster care with another agency in July 2014 but remained in contact with their aunt.  Courtney made the decision that she wanted to care for her nephews and give them the loving home that they needed.  She became a foster parent with the KidsPeace Danville office and was able to finally have the boys move in with her and her two sons in June 2015. 
It was an adjustment having five boys in her care but it was well worth it.  She quickly got the boys involved in different activities and they started to flourish.  The boys experienced some trauma and had a lot to overcome but Courtney was willing to do whatever she needed to get them appropriate care. Through all their challenges, the boys remained happy because they could be with their Aunt Courtney.   
February 16th was a day that the Cunningham family will never forget – adoption day!  Courtney, Keith, Kenny, Kyler, and her two sons were at the adoption hearing — along with their KidsPeace Caseworker, Tony Gold.  The boys were so happy that Tony could be there on the happiest day of their lives! 
After the hearing, all five of the boys posed for a picture: (left to right) Liam, Caiden, Keith, Kenny, and Kyler. Their smiles show that Aunt Courtney has given them the best gift of all, hope for a better life.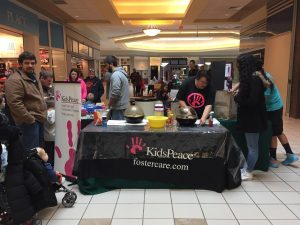 On Saturday, January 28, the KidsPeace foster care program participated in the annual Susquehanna Valley Mall Children's Fair.  This is a very popular event that attracts hundreds of families to the mall to learn more about different programs that are available for them in their community.  The goal of this event is for children to engage in activities with their families and at the same time educate parents on the different programs that are available in their community. 
KidsPeace associates – including Paul Price, Tony Gold, and Rebecca Cade from the Danville and Williamsport Foster Care offices — encouraged visiting youngsters and their families to be creative and work with each other decorating a bag and filling it with fresh popcorn!  While they are working on this activity, it gives the parents an opportunity to learn more and ask questions about KidsPeace and all the services that we provide.
These children's fairs are a great way to be visible in the community and educate families on KidsPeace -and to also spread the word of our need for more foster parents in our program.  The next children's fair that we will be participating in is Saturday, March 18th at the Columbia Mall in Bloomsburg.  We hope to see you there!