SERVICES OFFERED: Foster Care, Outpatient Counseling, Intensive Alternative Family Treatment, Therapeutic Foster Care, Psychiatric Services, Enhanced Therapeutic Foster Care.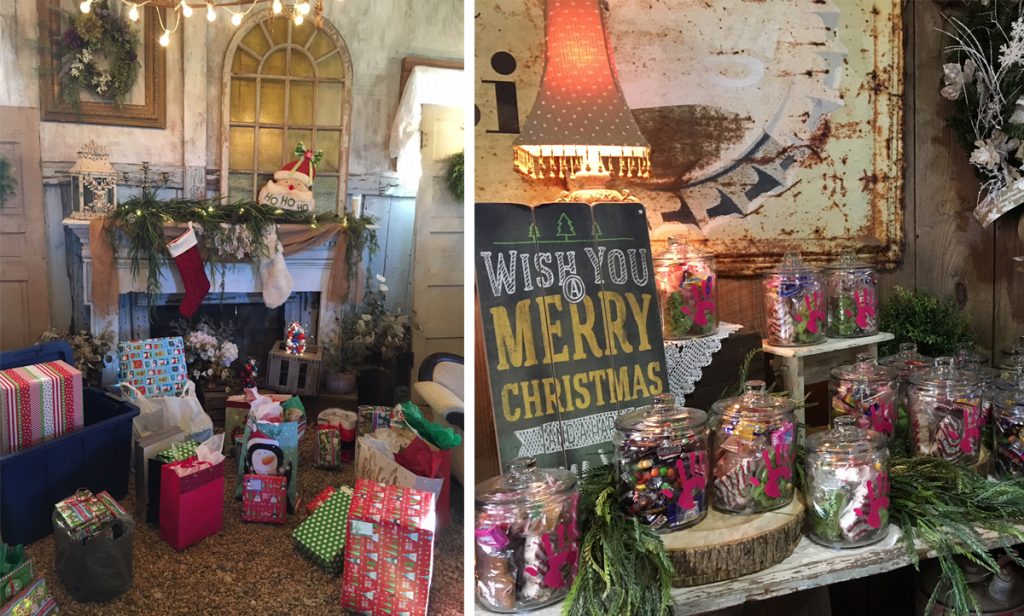 "Life is like a boomerang. What you give, you get." That has been very true with the KidsPeace Fayetteville office this year. The holiday season looks to be even better!
Fit for Life Gym wanted to help this Thanksgiving by giving one of our families a Thanksgiving Day feast, complete with all the side dishes. One family had a wonderful time enjoying some food and fun, being together, and enjoying the day.
Our Angel Tree is once again taken care of by the wonderful folks at McKee Homes. This is the 3rd year they have sponsored our kids, and will go above and beyond to get every child adopted for Christmas again this year. We were also approached by Addison Ridge Apartment Community and Good Living Coffee Zone here in Fayetteville. They will be doing angel trees for additional items for our kids. Good Living will also be donating a portion from the sale of all their water sold in December for our program.
We also have a wonderful Board of Associates who is donating their time to host a "wrapping party" to get the gifts wrapped for all our kids in care. The staff has also volunteered to help a larger agency wrap the gifts for their kids after we finish with ours that day. It feels good to be able to give back as well.
We have been selected as the 2018 Apartment Association Non-Profit of the Year. We are so excited to partner with a wonderful organization in the coming seasons. Just when it couldn't get better, we have been chosen as a non-profit for the Wilkinson Real Estate Advisors Christmas Luncheon. As they will be meeting after our Winter Gala, they are going to donate office supplies to the office to "help us do what we do best, better".
Our Winter Gala will be the best one yet!!! We have a venue completely donated for our holiday party for the kids and families. There will be photos, hayrides, and even a hot cocoa bar and popcorn bar to enjoy along with great food and a DJ for the evening. Some of our kids have experienced so much loss and trauma that it is inspiring to shower them with gifts, food, fun and smiles!!!
From the Fayetteville KidsPeace Family, we will you all a wonderful holiday season, full of all the love and happiness your hearts and hands can hold. Happy Holidays!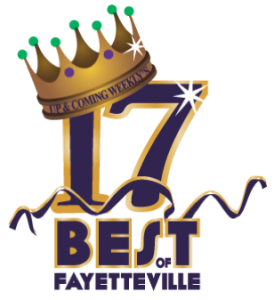 We're honored that KidsPeace Foster Care has been chosen as Best Local Non-Profit Organization in the 2017 "Best of Fayetteville" by Up and Coming Weekly.  In announcing the award, the publication noted that foster care agencies are charged with finding families to care for children who are coming from difficult circumstances…
"KidsPeace educates potential foster families about the traumas these children sometimes face and teaches them how to best care for the children.  It includes hosting and conducting workshops about relevant but sometimes uncomfortable topics like human trafficking, bullying and abuse.  It involves fun things, too – like hosting the annual KidsPeace Chair-ity Auction, which helps fund its work: helping families heal and watching children flourish in the right loving environment…"
Thanks to Up and Coming Weekly for this honor!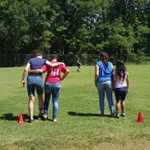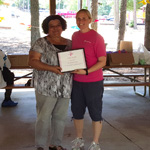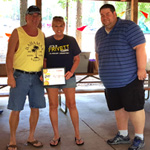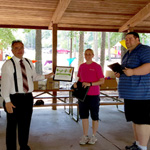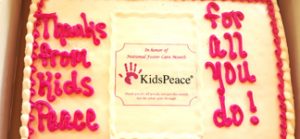 Fayetteville had their yearly foster care month celebration on May 27th.  As with the rest of the year, we wanted to let the families know how much they mean to us and our kids in care.  We had a field day, complete with an obstacle course, 3 legged race, and tug of war.  When everyone was all worn out and hungry, we had lunch from the local Cape Beard "Pig Pickin' for Autism" benefit (BBQ pork, baked beans, cole slaw and cake – delicious!).   We ended the day with Model of Care awards and thank-you gifts handed out to parents and staff.  Thanks to everyone who helped make this celebration special!
"The more you praise and celebrate your life, the more there is in life to celebrate." –Oprah Winfrey
We will be holding information sessions in early January for anyone interested in learning more about foster care and becoming a foster parent with us.  The sessions will be held on January 3, 4th and 5th from 6-8 pm at our Fayetteville office.  We are asking anyone who plans to come to choose one date and give us a call to reserve a seat. Please join us!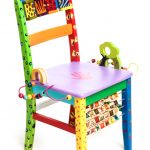 Plans are in full swing for the 3rd Annual "Chair-ty Auction" to benefit KidsPeace Foster Care in Fayettevile. The September 29th event raises money by auctioning off chairs decorated by local artists — and you see from these pictures that this year's submissions may be the best ever! Check out all the chairs and learn more about the event at https://www.facebook.com/ChairityAuction/