SERVICES OFFERED: 
KidsPeace Foster Care and Community Programs (FCCP) in Harrisburg offers foster care to children of all ages.  In addition, KidsPeace Harrisburg is a licensed adoption agency and an affiliate of the Statewide Adoption Network (SWAN).  Other services offered may include Kinship Foster Care, Family Group Decision Making, CRRHH (Community Residential Rehabilitation Host Home), or counseling in the community.  Please feel free to contact our office directly for additional details about any of these services!  
"There is a definite need for foster parents in your area.  If you are thinking about becoming a foster parent please take the time to watch this video about foster care from a child's perspective."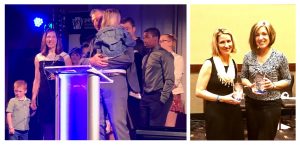 Staff members and a foster family from the Harrisburg office were honored at a ceremony in June by the Statewide Adoption Network (SWAN).  The group presented its "Permanency Teamwork Recognition Award" to the Bender family (pic) and KidsPeace associates Trish Bolster, Family Resource Specialist, and Carolyn Dorazio, Casework Supervisor (pic), for their efforts to facilitate the adoption of a 16 year old boy.    Congratulations to all!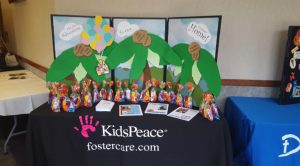 On April 27, 2018 our Harrisburg office held its annual Foster Parent Appreciation Banquet.  The event was held at the Harrisburg Best Western Premier; The Central Hotel and Conference Center.  The evening was attended by both traditional foster families and kinship families as well as KP staff. The night was full of laughter, support and fellowship as foster parents got to know one another.  Everyone had a wonderful time and look forward to the event again next year.
Christine Covaleski, a Permanency Specialist for Harrisburg, was the imagination behind the first place award winning KidsPeace SWAN display board for the SWAN Spring Quarterly Meeting held in Enola, PA.  The theme was "On an Adventure to Our Forever Home". This was Christine's second award winning KidsPeace display board.  Congratulations to Christine for an awesome and imaginative job.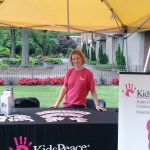 KidsPeace Harrisburg staff member Trish Bolster was all smiles, greeting folks visiting the Central Penn Parent Family Festival in Harrisburg on Saturday June 10, 2017.