SERVICES OFFERED: Therapeutic Foster Care, Specialized Foster Care, Medically Fragile Foster Care, Traditional Foster Care, Home Based Services, Homemaker Services, Family Preparation Services, Child Preparation Services, Supervised Visitation.
On Wednesday, September 12th, the Merrillville office participated in the bi-annual provider fair that is sponsored through Lake County Department of Child Services. This is always a great opportunity to meet informally with DCS caseworkers. It is also a good way to remind them of all the services that are provided by our agency. We also get to see what services other vendors provide. This event also allows us to meet with potential foster parents. It is an excellent way for us to maintain name recognition and to promote our mission statement in our community.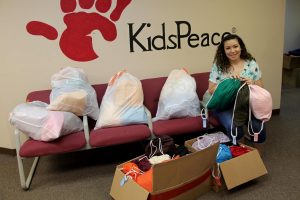 Arianna W. came to KidsPeace when she was seven years old, and in a little over a year she was adopted by her KidsPeace foster parents in Merrillville, IN.  Today, Arianna is sixteen years old, and she has started her own charity, Arianna's Heart, in hopes of making welcome bags for all new foster children.
The idea started with gathering items that she thought all kids could use in a new environment; her idea caught on with members of her church and community collecting items and donating money to help make the bags possible.  Bags are designated by age, but all include toiletry items, a small blanket, a book, and a note of hope from Arianna. Bags for younger children include stuffed animals and toys, while bags for older children include journals.
Arianna is in the process of making Arianna's Heart a non-for-profit organization; for more information you can visit her site on Facebook.