SERVICES OFFERED:
KidsPeace Foster Care and Community Programs (FCCP) in Bethlehem offers foster care to children of all ages.  In addition, KidsPeace Bethlehem is a licensed adoption agency and an affiliate of the Statewide Adoption Network (SWAN).  Other services offered may include Kinship Foster Care, Family Group Decision Making, CRRHH (Community Residential Rehabilitation Host Home), or counseling in the community.  Please feel free to contact our office directly for additional details about any of these services!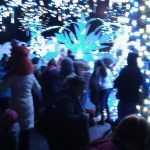 KidsPeace Family Appreciation Event
KidsPeace Foster Care and Community Programs Bethlehem office treated its local foster families to a night at the Winter Light Spectacular at the Lehigh Valley Zoo in Schnecksville on December 9, 2016. Children and parents enjoyed the display areas, light tunnels, giant snow globes, live reindeer and firepits for making s'mores. En- tertainment was provided by local choirs and a perform- ance and pictures with Elsa and Olaf from Frozen.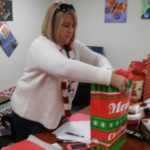 Our thanks goes out to the Lehigh Valley Iron Pigs front office for sponsoring an Angel Tree to benefit the foster children at the KidsPeace Foster Care and Community Program Bethlehem office. Employees selected the name of a child in care and donated a gift for the Holi- day season. Children received gifts of toys, sweat- shirts, art supplies, and gift cards.
Their generosity and thoughtfulness is a wonderful re- minder of the support of the community in our mission to give hope, help, and healing to children, families, and communities.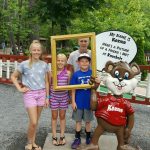 In June, Knoebels Amusement Resort hosted KidsPeace foster families and children for a day of "fun, food, and fantasy!" Located in Elysburg, PA, Knoebels has sponsored KidsPeace for the past four years. This year foster families from the Danville, Pottsville, Scranton, Honesdale, Williamsport, Reading, and Bethlehem offices were able to make the trip and enjoy the day together.   Park spokesperson Stacy Ososki said, "The Knoebel family and team was honored to continue this longstanding partnership with such a worthwhile organization. Seeing smiles on the faces of our visitors is what brings us the most joy each day of operation. We enjoyed being able to extend happiness to KidsPeace families, some of whom were visiting an amusement park for the very first time!"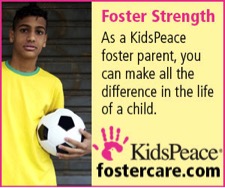 The Bethlehem foster care office is actively recruiting additional foster and fost/adopt homes throughout the Lehigh Valley area. Some of the recent referrals included homes for sibling groups (boy, 2 month pre-mature and 7-year-old sister), (2 sisters, ages 9 and 10) and (4-year-old twin brother and sister). The relationship that forms between siblings is often the longest lasting relationship in a person's life. It is important that we build these relationships when foster care is needed and avoid having to separate children whenever possible.
We also need bilingual families to work with Spanish-speaking youth. These youth are eager to be with a supportive family who can assist them with their educational needs.
Our recruitment process is simple and convenient. Our experienced staff members will talk and meet with you to assist you in completing training and paperwork to become an approved home. Call us at (610) 799-8386 or complete the information on the Start Today screen.