SERVICES OFFERED:
KidsPeace Foster Care and Community Programs (FCCP) in Honesdale offers foster care to children of all ages.  In addition, KidsPeace Honesdale is a licensed adoption agency and an affiliate of the Statewide Adoption Network (SWAN).  Other services offered may include Kinship Foster Care, Family Group Decision Making, CRRHH (Community Residential Rehabilitation Host Home), or counseling in the community.  Please feel free to contact our office directly for additional details about any of these services!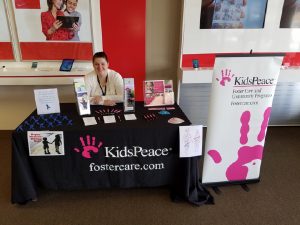 On April 10, 2017 the Verizon Wireless store in Honesdale, PA allowed KidsPeace to display a table in their store. Wayne County residents that frequent the store were able to get information regarding the services that KidsPeace offers such as Foster Care, Adoption and S.I.T.E as well as information on parenting skills and suicide prevention. Verizon Wireless has invited KidsPeace to participate in the book bag giveaway they have in August where local families come to get free book bags and school supplies for their children.
On April 1, 2017 North Pocono School District hosted a Health and Fitness Fair at the Middle School from 10:00am until 1:00pm. The fair was open to students, families, and the community. The fair promoted the importance of a healthy lifestyle for students and members of the community. During the event as people came in, they were handed a bingo sheet with all the vendors listed on it. In order to enter their sheet into a drawing they had to have every vendor check off their name. This allowed each person to visit all the vendors' tables personally and get information regarding their programs. KidsPeace Foster Care and Community Programs participated in this event. KidsPeace was able to offer information regarding the Foster Care, Adoption, S.I.T.E., parenting skills and suicide prevention programs as well as helpful websites such as TeenCentral.net, ParentCentral.net, KidsPeace.org and Fostercare.com.