SERVICES OFFERED:
KidsPeace Foster Care and Community Programs (FCCP) in Honesdale offers foster care to children of all ages.  In addition, KidsPeace Honesdale is a licensed adoption agency and an affiliate of the Statewide Adoption Network (SWAN).  Other services offered may include Kinship Foster Care, Family Group Decision Making, CRRHH (Community Residential Rehabilitation Host Home), or counseling in the community.  Please feel free to contact our office directly for additional details about any of these services!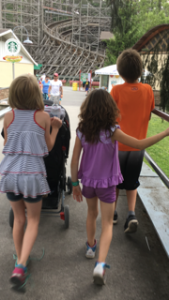 On June 22, nearly 500 foster children with their families were able to spend the day together at Knoebels Amusement Resort.  Knoebels is a family centered amusement park nestled in a beautiful setting in Elysburg, PA, and featuring several award-winning roller coasters and attractions!  Once again they very generously sponsored all the foster children and their foster families in the Danville, Pottsville, Williamsport, Scranton, Honesdale, Reading, and Bethlehem KidsPeace foster care offices, providing all-day ride passes and food coupons to enjoy!
Some of the foster children had never been to Knoebels before so it was an awesome first time experience for them. Pictured are some of the children anxiously gazing upon "The Phoenix" roller coaster, one of Knoebels' most famous and popular rides.  They could not wait to ride this award winning wooden roller coaster!
This is the fifth year that Knoebels has very generously sponsored this event for our families and we continue to appreciate their generosity and passion to bringing smiles to the faces of all the children in our programs!
On Wednesday, June 6, representatives of KidsPeace participated in the "13 Reasons Why" discussion panel held at Montrose Area High School.  Other presenters included Women's Resource Center, Scranton Counseling Center, Children Service Center, Endless Mountain Health System, MEPA Community Health, Montrose ER, Advocacy Alliance, KidsPeace and Montrose Sheriff's Department.  In addition, school administration, parents, local service providers, school counselors, teachers, and other interested persons of the community were in attendance.
Lori Chieffallo presented a brief presentation including information on the programs KidsPeace offers – such as foster care, the SITE (Sexual Issues Treatment and Education) program, KidsPeace Hospital (Orefield, PA), and various therapeutic offerings (trauma, sexual abuse, victim, family, and group).  She also mentioned free resources provided by KidsPeace, including parentcentral.net, fostercare.com, KidsPeace.org, and teencentral.com — the anonymous and confidential web-based therapeutic support services which was just relaunched with new content and support tools for teens to utilize. 
Overall, the event was informative and successful in helping local service providers network, and helping parents become aware of and share information about resources and programs offered to the community near Montrose Area School District.