SERVICES OFFERED: Therapeutic Foster Care, Specialized Foster Care, Medically Fragile Foster Care, Traditional Foster Care, Home Based Services, Homemaker Services, Family Preparation Services, Child Preparation Services, Supervised Visitation.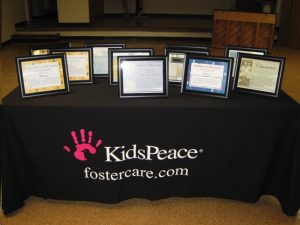 KidsPeace Foster Care's South Bend office celebrated the hard work and dedication of our Foster Parents with a banquet hosted by Coalbush United Methodist Church and catered by Adoption Attorney Debra Voltz-Miller on Friday, May 12.  Foster Parents developed new relationships by participating in a Human Bingo game, followed by a presentation by Family Resource Specialist Tami Maier on Developmental Relationships.
In addition,  the office presented several awards to foster parents:
Lifetime Achievement—Andy and Naomi Ball
KidsPeace Overall Model of Care—Dave and Wendy Wright
Character – Jesse and Bonnie Gathright
Dignity—Michael and Emily Tefft
Empowerment—Joyce Jackson
Relationship & Belonging—Mark and Amy McIntosh
Safety—Dave and Amber Hipskind
Transformation—Santos and Natalie Fernandez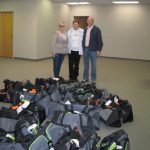 First Church of God in Nappanee delivered 28 duffle bags for foster children with comfort items in them and a personal note. Our many thanks to the congregation.
Pictured: Diane Bennett, Tami Maier(Family Resource Specialist) Pastor Sam Bennett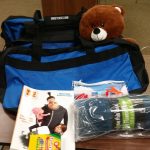 When Allison Sumrall and a group of friends heard that children being placed in foster care were bringing their belongings in trash bags, she decided to act. Along with the organization Together We Rise, Allison arranged for the donation to KidsPeace FCCP of ten "Sweet Cases" – a duffle bag filled with a blanket, stuffed animal, color book and crayons and some personal hygiene products for the children coming in to foster care. 
"These kids feel lost enough when they're taken out of their biological homes," she said. "They should not feel their belongings are trash!" Children receiving a "Sweet Case" have been thrilled to have a bag and comfort items of their own.