SERVICES OFFERED: Foster Care, Adoption Services, Therapeutic foster care, Teen mother and baby foster care.

Flowers and Fancies is a local flower company who is partnering with us through their Blooms 4-A-Better BMore Program. In this program, they partner with local organizations help raise awareness and fundraise. The KidsPeace flower arrangements will be released for sale, promoted on Flowers and Fancies' website and social media outlets for the months of April, May, and June, and KidsPeace will receive 50% of all our flower arrangement sales. After June, the flower arrangement will permanently remain on the flowers and fancies website and available for sale to continue to raise funds for our program.
http://www.flowersandfancies.com/occasions/blooms-4-better-bmore/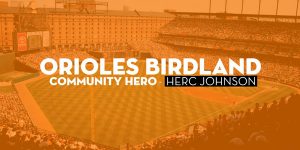 Herc Johnson has been a KidsPeace foster parent for 15 years, providing a steady, supportive and loving father-figure presence for many kids in the Baltimore area. On Sunday, June 19th Herc was recognized as a Birdland Community Hero by the Baltimore Orioles. Read More….