SERVICES OFFERED: 
KidsPeace Foster Care and Community Programs (FCCP) in Danville offers foster care to children of all ages.  In addition, KidsPeace Danville is a licensed adoption agency and an affiliate of the Statewide Adoption Network (SWAN).  Other services offered may include Kinship Foster Care, Family Group Decision Making, CRRHH (Community Residential Rehabilitation Host Home), or counseling in the community.  Please feel free to contact our office directly for additional details about any of these services!  
Staff from the KidsPeace Foster Care Danville office attended a Child's Fair that was held at the Columbia Mall on April 7. At the event we had children decorate a brown paper bag with markers or stickers. After they finished decorating their bag we then gave them free popcorn. The event was very successful and very busy. Thanks to those that helped — Those that help during the event included Victoria Ryan, Martha Brown, Rob Twiddy, Tony Gold, Kayla Gold, and Paul Price.
Speaking of Paul – he was featured in the Daily Item newspaper (Sudbury, PA) for a story on the state of foster care in the region. Paul sat down with Eric Scicchitano from the Daily Item for a video interview to discuss recent trends and the need for foster homes. Click HERE to view the interview.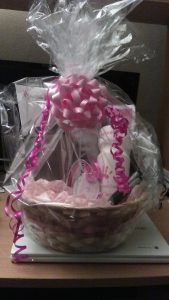 A KidsPeace basket was made and donated to Kristy Wright, a foster parent with our Danville office. She is a member of a parent group that helps raise money for West Berwick Elementary. Kristy used the basket in a raffle during their Basket Bingo event to help raise money for West Berwick Elementary on February 25, 2018. In the basket was an assortment of KidsPeace items such as: water bottle, cup, magnet, bumper sticker, folder, pens, magazine, flyer, etc. The money raised at this event will go towards paying for field trips and having family night for the children at West Berwick Elementary.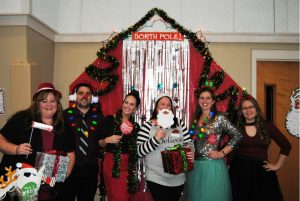 On December 8, 2017 the Danville FCCP office held our annual Christmas Party at Lightstreet United Methodist Church in Bloomsburg. We had over a hundred people attend the event, which included 18 foster families. After a delicious home-cooked holiday meal, a surprise visitor made an appearance… of course it was Santa Claus! Each of our foster children got to sit on Santa's lap and received gifts.  As the children tore open their gifts, they were very excited and some even screamed out loud with excitement.
A new thing we did this year was to have a photo booth, where families could dress up in a Santa hat, elf ears, light up necklaces, reindeer ears, and etc. We had a mini Polaroid camera that we used to take pictures of the families. Many of the families participated in the photo booth to pass the time waiting for food or their name to be called by Santa. It was a great time and a lot of fun.  In the silly photo booth picture of the Danville Staff, from left to right in the picture is Martha Brown, Paul Price, Colbie Mertz, Angelene Delarge, Jackie Kern, and Christina Hess.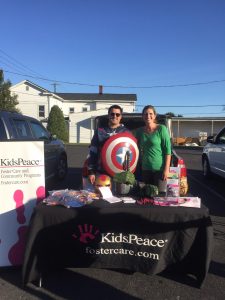 On October 27, Paul Price and Jackie Kern got into the Halloween spirit at the local M-C Credit Union's annual Trunk or Treat in Danville, PA.  Paul as Captain America and Jackie as the Hulk were passing out bags of candy to all the local children and providing foster parenting information out to all potential future foster parents in the area!  This is a very popular event in Danville and it was the perfect opportunity to bring smiles to children's faces and to talk to any potential foster parents to join our program – Thanks, Paul and Jackie!!!
On 10/7 the office hosted a Fall Family Fun Day at Kohls Stony Hill Tree Farm in Milton, PA.  A perfect fall day greeted all the foster families, as they enjoyed  so many different things to do  — a hay ride, pumpkin picking, corn cob shooting, "pumpkin chunkin," life sized outdoor family games, a corn maze, and even s'mores when they were done!  After shooting corn cobs at giant cartoon characters and trying their sling shot skills at the pumpkin chunkin station, everyone made their way up the hill to try their skills at navigating through a two mile long corn maze!  It was pretty tricky with all the twists and turns!  As everyone finally found their way out of the corn maze, they could spend time playing the life-sized outdoor games which included Jenga, Plinko, pool, limbo, a corn kernel pit, and many more games!  This was a truly memorable day for all the kids and families in our program!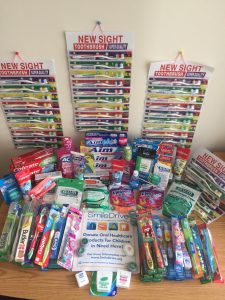 Here are the oral health products recently donated during a "Smile Drive" to benefit our kids.  The collection was part of the America's Tooth Fairy program, and this year a group led by Stacey Fenstermacher chose the KidsPeace Danville foster care program as the recipient of the items collected – including tooth brushes, floss, mouthwash, and toothpaste.  All these products are in the process of being distributed to all the kids in our program and what is left will be given to any new children coming into foster care.  We are truly grateful for the generosity of Stacey and all those who participated!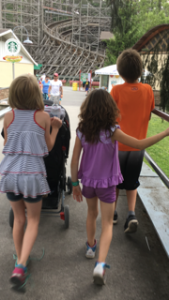 On June 22, nearly 500 foster children with their families were able to spend the day together at Knoebels Amusement Resort.  Knoebels is a family centered amusement park nestled in a beautiful setting in Elysburg, PA, and featuring several award-winning roller coasters and attractions!  Once again they very generously sponsored all the foster children and their foster families in the Danville, Pottsville, Williamsport, Scranton, Honesdale, Reading, and Bethlehem KidsPeace foster care offices, providing all-day ride passes and food coupons to enjoy!
Some of the foster children had never been to Knoebels before so it was an awesome first time experience for them. Pictured are some of the children anxiously gazing upon "The Phoenix" roller coaster, one of Knoebels' most famous and popular rides.  They could not wait to ride this award winning wooden roller coaster!
This is the fifth year that Knoebels has very generously sponsored this event for our families and we continue to appreciate their generosity and passion to bringing smiles to the faces of all the children in our programs!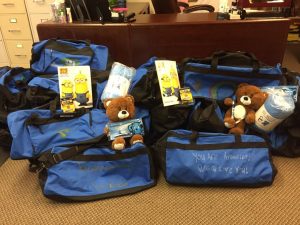 Hummel's United Methodist Church's Sunday school class coordinated with Together We Rise to decorate "Sweet Bags" for the foster children in the Danville FCCP office.  Together We Rise is a non-profit organization that helps provide children in foster care with duffle bags with the goal and hope of eliminating the need of a trash bag for them to pack their belongings in.
Nicole and Matthew Harris wanted their Sunday School children to learn the value in helping those in need, so they contacted Together We Rise and the organization donated 30 duffle bags that are full of items such as educational materials, a stuffed animal, and hygiene products.  Nicole and Matthew said the children in their class really got involved and truly enjoyed this project.  Each child created a message such as "You are Amazing!" and "You Rock!" and decorated each bag.   All the bags were delivered to every child in the Danville FCCP program and they were very appreciative of this kind gesture!
We are very grateful for Nicole and Matthew's efforts and reaching out to help the children in our program!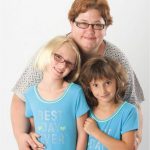 Kristy Wright, a foster parent from our office in Danville, was faced with a common question — what's a mommy? And she's answered that question in a new book for kids. Learn her story, and how she's helping our office's efforts, in the fostercare.com blog. CLICK HERE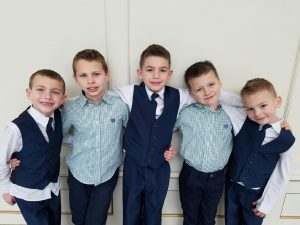 On February 16, 2017, the KidsPeace Danville office was proud to see brothers Kenny, Keith and Kyler find their forever family with their aunt and KidsPeace foster parent, Courtney Cunningham.  Kenny, Keith, and Kyler were placed in foster care with another agency in July 2014 but remained in contact with their aunt.  Courtney made the decision that she wanted to care for her nephews and give them the loving home that they needed.  She became a foster parent with the KidsPeace Danville office and was able to finally have the boys move in with her and her two sons in June 2015. 
It was an adjustment having five boys in her care but it was well worth it.  She quickly got the boys involved in different activities and they started to flourish.  The boys experienced some trauma and had a lot to overcome but Courtney was willing to do whatever she needed to get them appropriate care. Through all their challenges, the boys remained happy because they could be with their Aunt Courtney.   
February 16th was a day that the Cunningham family will never forget – adoption day!  Courtney, Keith, Kenny, Kyler, and her two sons were at the adoption hearing — along with their KidsPeace Caseworker, Tony Gold.  The boys were so happy that Tony could be there on the happiest day of their lives! 
After the hearing, all five of the boys posed for a picture: (left to right) Liam, Caiden, Keith, Kenny, and Kyler. Their smiles show that Aunt Courtney has given them the best gift of all, hope for a better life.