SERVICES OFFERED: 
KidsPeace Foster Care and Community Programs (FCCP) in Doylestown offers foster care to children of all ages. In addition, KidsPeace Doylestown is a licensed adoption agency and an affiliate of the Statewide Adoption Network (SWAN).  Other services offered may include Kinship Foster Care, Family Group Decision Making, CRRHH (Community Residential Rehabilitation Host Home), or counseling in the community.  Please feel free to contact our office directly for additional details about any of these services!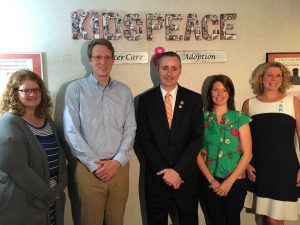 U.S. Representative Bryan Fitzpatrick (R-Pa.) visited the KidsPeace Doylestown foster care offices on Friday 8/4, meeting the staff and talking with foster parents Megan and Jonathan Craig.  Megan and Jonathan told Congressman Fitzpatrick about the challenges and successes they've seen in fostering nine-month-old Aidan, a child born into a family touched by addiction.  Congressman Fitzpatrick also heard about KidsPeace's plans to develop a "Center of Excellence" resource for foster parents facing similar situations; the center will provide a clearinghouse for the best available support and information so that foster families can give these innocent victims of substance abuse the best chance to grow and thrive.  Thanks to the congressman and Sean Roche of his staff for visiting, and we look forward to working with you in the future! 
Pictured with Congressman Bryan Fitzpatrick (center) at the KidsPeace Doylestown office are (l. to r.): Heather Moore, KidsPeace Foster Care regional manager; foster parents Jonathan and Megan Craig; and KidsPeace Vice President of Development Ann McCauley.