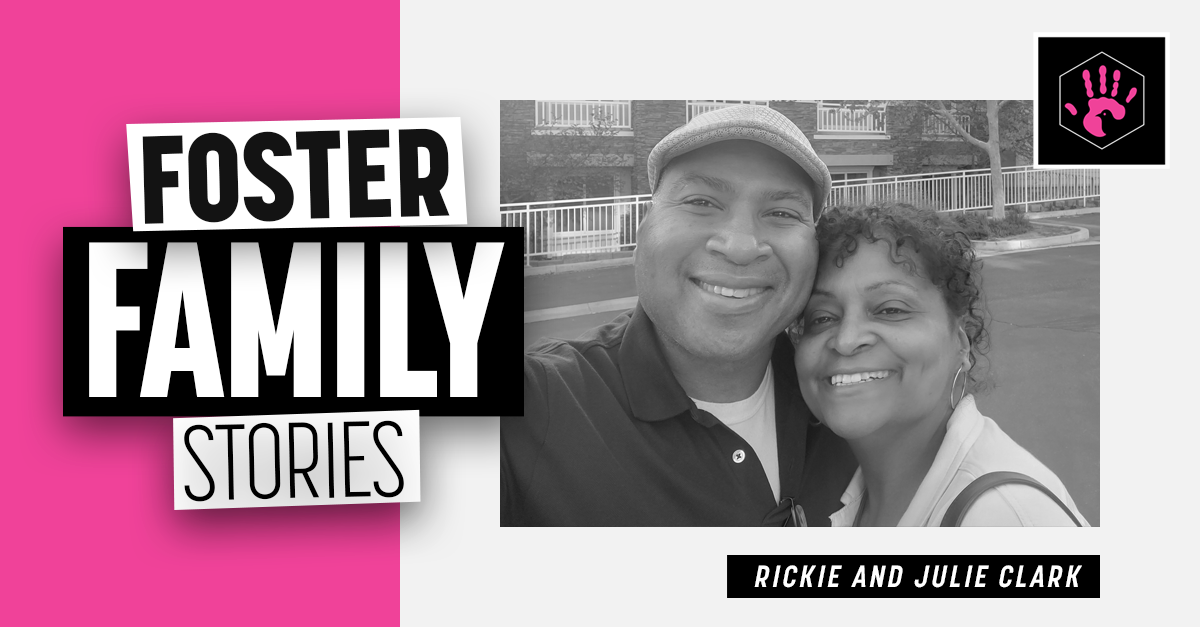 Indiana foster parents Rickie and Julie Clark have been married for 25 years and have two biological adult children.  Here Rickie describes their decision to become foster parents and what that has meant for themselves and the kids they care for:
We first became interested in fostering in 2013 when our biological kids were in middle and high school.  A close friend of our daughter, who unfortunately was already in the system, found herself in a challenging situation and came to us in need of a stable home environment.  Our daughter really advocated on behalf of her friend and we decided to welcome her into our home.   At that time, we had no idea how powerful, life-changing and impactful the experience of providing a safe, loving environment to a child (who we did not know very well at the time) would have on our entire family.   
Although we did not initially seek out the opportunity to foster, we were so thankful and grateful to have the opportunity to positively impact a child's life.  The gratification of seeing a child grow and thrive emotionally, socially, and academically and have an opportunity to succeed in life is beyond rewarding.  We derive a deep sense of purpose from fostering, as we know and believe in our hearts that we are making a difference and are engaging in something truly meaningful and important.
Our first fostering experience involved helping a kiddo navigate through three years of high school and an additional two years of early adulthood.  We are so very pleased that she is doing well, thriving and chooses to regularly keep in touch with us.    
Over the years we've had a number of placements ranging in age and duration.     
Presently, we have an older sibling group of three that have been with us for about two years.  We are a family in every sense of the word as it's been really interesting to see the kiddos begin to break away from past tendencies, traits, habits and begin taking on those of my wife and I.  There is still much work to do but we can see the progress and more importantly, we can see the effort on their part which is incredibly encouraging.
Is the fostering experience rewarding?  Yes.  Is the fostering experience incredibly challenging? Yes.  Are there good days, great days, difficult days and really difficult days?  Yes, yes, yes and yes.   
One of the more understated challenges with fostering is sometimes older kiddos feel entitled and that the world owes them because they've come from difficult if not awful circumstances.  This sense of entitlement can lead to a lack of gratitude which can be difficult for foster parents to handle and/or address.  As is the case with any parent (foster or biological), you must have patience, patience and patience.  In addition, having the ability to place ourselves into the shoes of our kiddos is incredibly enlightening and is necessary in order maintain perspective.  
The thing we've found to be the case in our fostering experience is that neither of us seldom see nor experience the positive outcome of our efforts in real time.   Kids will be kids and they do not and will not truly understand or appreciate the work, the sacrifice, the time and in some instances the postponement of life plans to ensure the kiddos under our care are well taking care of and equipped to succeed in life.  
We, as foster parents, are investing in kiddos now, in the present, in hopes of seeing these kids grow into successful, responsible and productive adults, that is when our fostering experience will be most gratifying.  
So with this in mind, we optimistically look towards the future with respect to our kiddos and remain steadfastly committed to their continuing growth, personal development and success in the present.   
Rickie and Julie Clark, from New Castle, IN, are foster parents working with KidsPeace Foster Care's Muncie office.
Want more information about fostering?  Fill out our inquiry form at http://fostercare.com/become-a-foster-parent/