SERVICES OFFERED: Therapeutic Foster Care, Specialized Foster Care, Medically Fragile Foster Care, Traditional Foster Care, Home Based Services, Homemaker Services, Family Preparation Services, Child Preparation Services, Supervised Visitation.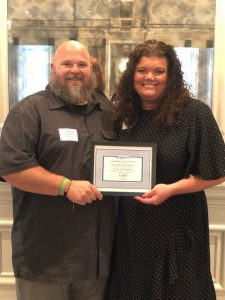 Congratulations to David and Dayna Atkinson on being recognized by the Kiwanis Club of Indianapolis and our Indianapolis office as Foster Parents of the Year! David and Dayna have been fostering for three years and they hit the ground running! Not only are they excellent with children but they also are active members of the KidsPeace community of foster homes and stay connected with numerous foster parents in an effort to help them learn and grow. We are very proud to call them part of our KidsPeace community!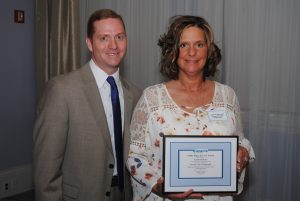 Each year the Kiwanis Club of Indianapolis recognizes a KidsPeace foster family with their Faith, Hope, & Love Award.  This year's recipient is Laura Denzler, a single foster mother from Plainfield, IN who has been with KidsPeace since 2014.  She currently has a sibling group of four children between the ages of 3 and 10 placed in her care; all of the children had experienced abuse and/or neglect and have significant therapeutic needs.
KidsPeace Program Manager Christian Deck describes Laura as "pretty great."
"Laura has continuously gone out of her way to stay educated on trauma-informed parenting, and participates in family therapy with the children to help them process their past trauma," Deck said. "Laura's roommate had been assisting her with the children for a number of years but sadly passed away unexpectedly this past December. Laura did not waiver and continued to meet the children's needs despite her roommate's passing. Since then her church and community have taken her household under their collective wings and there has continuously been a stream of support flowing into her home."
Laura intends to adopt all four children later this year.  She received her award May 11 at the Kiwanis' annual Foster Parent Recognition luncheon, from Kiwanis representative Graham Honaker.