SERVICES OFFERED: 
KidsPeace Foster Care and Community Programs (FCCP) in Pottsville offers foster care to children of all ages.  In addition, KidsPeace Pottsville is a licensed adoption agency and an affiliate of the Statewide Adoption Network (SWAN).  Other services offered may include Kinship Foster Care, Family Group Decision Making, CRRHH (Community Residential Rehabilitation Host Home), or counseling in the community.  Please feel free to contact our office directly for additional details about any of these services!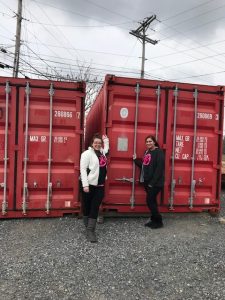 On March 15, 2018, the staff of KidsPeace's Pottsville foster care office volunteered at Threads of Change, a  foster care closet non-profit organization, to organize two large storage bins FULL of toys, furniture, clothing, shoes, and misc. accessories that have been donated and collected throughout Berks and Schuylkill County.  The items will be distributed to local foster families in Threads of Change's Spring/Summer 2018 distribution. KidsPeace staffers Nicole and Courtney pose in front of the two large storage bins that they and their colleagues organized.  Great job!
On June 22, nearly 500 foster children with their families were able to spend the day together at Knoebels Amusement Resort.  Knoebels is a family centered amusement park nestled in a beautiful setting in Elysburg, PA, and featuring several award-winning roller coasters and attractions!  Once again they very generously sponsored all the foster children and their foster families in the Danville, Pottsville, Williamsport, Scranton, Honesdale, Reading, and Bethlehem KidsPeace foster care offices, providing all-day ride passes and food coupons to enjoy! 
Some of the foster children had never been to Knoebels before so it was an awesome first time experience for them. Pictured are some of the children anxiously gazing upon "The Phoenix" roller coaster, one of Knoebels' most famous and popular rides.  They could not wait to ride this award winning wooden roller coaster!
This is the fifth year that Knoebels has very generously sponsored this event for our families and we continue to appreciate their generosity and passion to bringing smiles to the faces of all the children in our programs!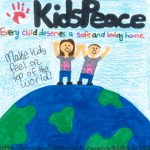 The Pottsville Office participated in the "Design an Ad" contest with the Republican Herald newspaper. School children throughout Schuylkill County designed an ad for KidsPeace using our logo and information, and then the KidsPeace office staff picked the winning entry. The winning ad (shown above) was done by Rebecca Dzuranin in 8th grade at St. Jerome Regional School. This ad will be published in the Republican Herald's March 6th "Design an Ad" publication. Great job, Rebecca!