SERVICES OFFERED: 
KidsPeace Foster Care and Community Programs (FCCP) in Reading offers foster care to children of all ages.  In addition, KidsPeace Reading is a licensed adoption agency and an affiliate of the Statewide Adoption Network (SWAN).  Other services offered may include Kinship Foster Care, Family Group Decision Making, CRRHH (Community Residential Rehabilitation Host Home), or counseling in the community.  Please feel free to contact our office directly for additional details about any of these services!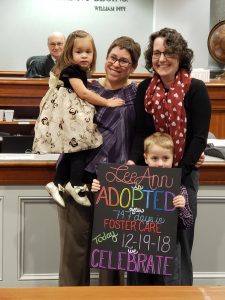 On 12-19-2018, Kristi, Becky, and Charlie celebrated the long-anticipated adoption of LeeAnn!  Surrounded by many family and friends, LeeAnn officially became part of her FOREVER FAMILY after 747 days in foster care.  Congratulations!!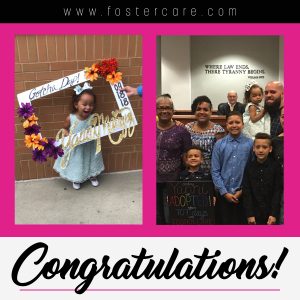 On 09/18/18, the Luciano family celebrated the long-awaited adoption of YanniMairyz!  After 707 days in foster care, she was officially made the little princess to four happy big brothers and two very excited parents!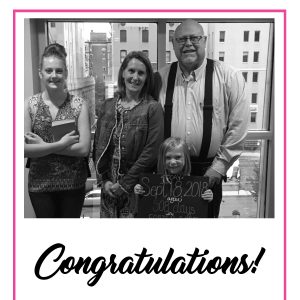 The Faidley family celebrated Lydia's adoption on 09/18/18.  After 508 days in foster care, Lydia is forever home with Richard, Angie, and Eva!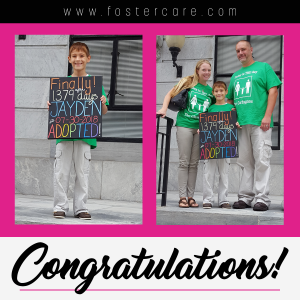 On July 30, after nearly 1,400 days in foster care, Jayden officially and permanently became a part of his forever family.  The courtroom was filled with lots of smiles and happy tears.  On behalf of KidsPeace and the Reading (PA) office, a heartfelt congratulations to Mike, Anna, and especially Jayden!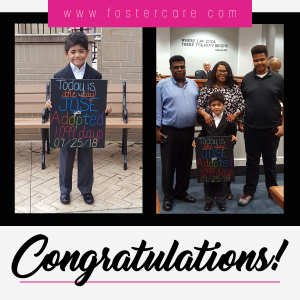 Today, July 25, 2018, the Andre family celebrated the adoption of Jose.  After 1,099 days in foster care, Jose officially joins his forever family with Beatrice, Leonce, and Bro (Bradlee).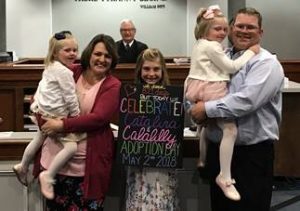 On May 2nd, the Hails family celebrated the adoption of Catalina and LillyBeth.  After 821 days in foster care, they are officially a forever family!  Clay, Erin, Reagan, Catalina, and LillyBeth were supported by many family and friends at the adoption hearing.  We are so happy to see you celebrate this wonderful occasion!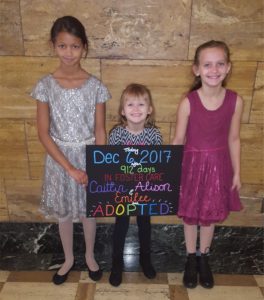 On 12/06/17 the Brown family grew by three!  Caitlin, Alison, and Emilee were adopted after 912 days in foster care by David and Janice.  The adoption was attended by family and friends with much excitement by all!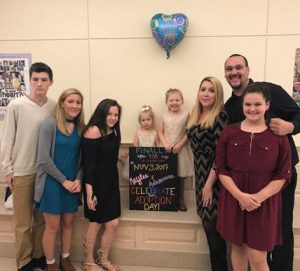 During Chester County's Adoption Day on November 3, 2017, Kaylee and Adreanna officially became Rosteks!  After 938 days in foster care, the girls celebrated with their forever family.  Jessica and Troy, along with their children, Erin, Brendan, Bella, and Lydia attended the happy, family-focused event. KidsPeace Foster Care Reading Staff is excited that Drea and Kaylee are now officially adopted!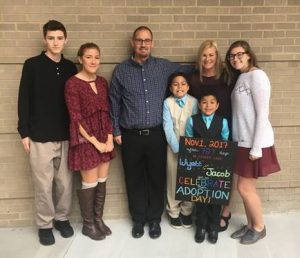 KidsPeace Foster Care and the Reading Staff is excited to announce that on November 1, 2017 the Wood family celebrated the adoption of Wyatt and Jacob!  Richard and Rebecca, along with their children, Erin, Emily, and Brendan are excited for the new chapter!  The boys were nervous and excited on adoption day, but after 727 days in foster care, they were very ready to forever be a part of the Wood family.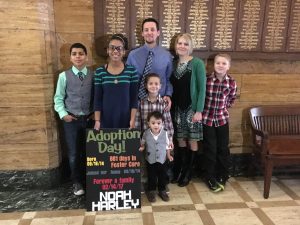 The Reading FCCP Office would like to congratulate Noah and the entire Harley family on Noah's adoption that took place 02/14/17!  After 881 days in the Harley home as a foster child, Noah is officially, and forever, a Harley!  In Noah's words, "It's adoption day!"  
Pictured are (from left to right) Levi, Mya, Alvin, Jack, Katie and Mason – and front and center, Noah! Congratulations to all!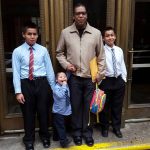 Happy Adoption Day!!!! On November 30, 2016…after 669 days in foster care Jesus, Guadalupe, and David found their forever home with Ed, a foster parent out of the Reading Foster Care office. The boys have excelled in Ed's care and he has provided them with a wonderful and structured home. Congratulations to the entire family!!!!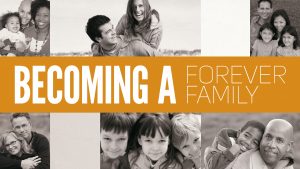 Andrew and I decided that we wanted to foster, with hopes of adopting, when we were told the only way we could have more children was through in-vitro fertilization. We were thankful to have our son Tyler, but knew we could provide a safe place for children in foster care who needed a home. During that time, we had church friends who were involved with KidsPeace Foster Care and we were able to see the impact they made on the children's lives. We wanted to be a part of that and wanted to welcome children into our home as our own… READ MORE