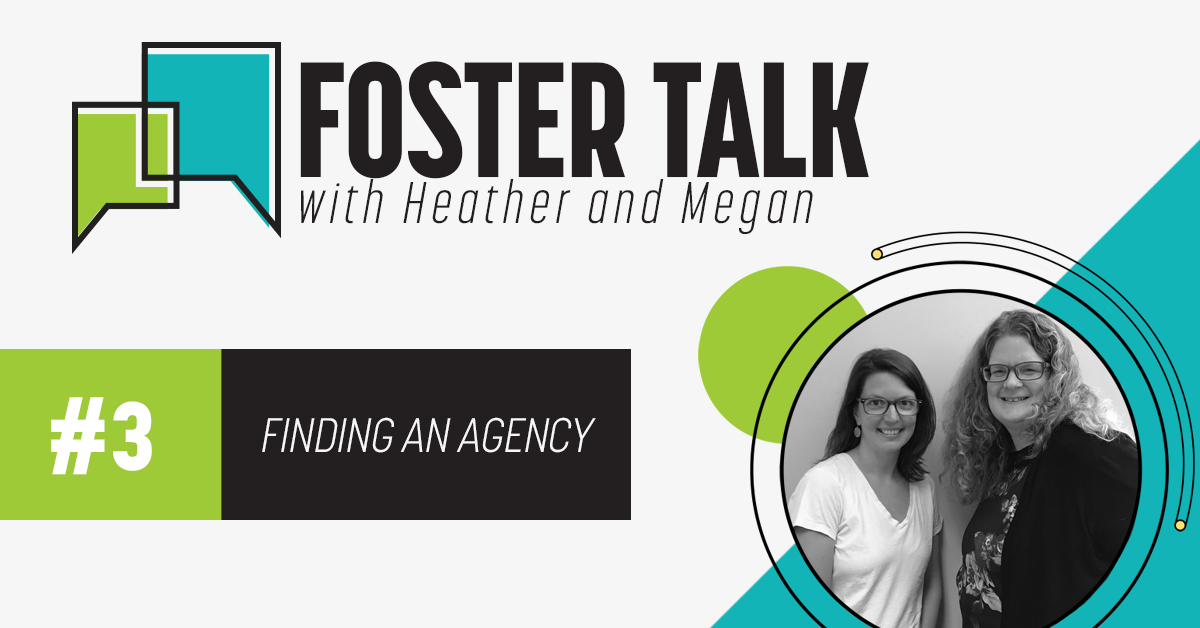 Heather Moore is the regional manager for KidsPeace Foster Care in southeast Pennsylvania and a foster parent; Megan Craig is a foster parent based in Doylestown, PA.
In this Foster Talk discussion, they discuss one of the most important decisions facing someone considering foster parenting – finding the right agency to work with…
Heather
The first question I would ask a prospective foster care agency is, "Do you typically get referral of kids for the age group I am looking to foster AND in my area?"  Children and Youth agencies like to keep kids near their biological families so that they do not have to travel as far for visits.  You do not want to go through the approval process to later find out your agency does not get referrals for your area. 
The second question I would ask is, "What support does a foster parent receive?"   Foster parenting is one of the toughest jobs around, and you do not want to feel like you are doing it alone and without guidance. 
I love working for KidsPeace because we have numerous small offices located throughout the state so we can offer that important personal touch.  Everyone in the office knows the foster parents and the kids that are placed with them, so even if your caseworker is out of the office you can get assistance. 
There are lots of rules and regulations you must follow and you will have lots of questions, especially in the beginning.  You also want someone who is going to listen to the challenges you might be having and offer feedback and support.  We offer individual trainings for foster parents and their support systems when a new challenge is occurring in the foster home. 
Your agency is not only going to match you with your new child but will also be there in good and bad times – so the match between family and agency is critical.
Megan
Making the decision to foster is the first big decision, but finding the right agency is a close second. Fortunately for my family, we are in an area where we had several options to choose from. As usual, I found people who had experience to be the best resource. Every single person I met with had worked with one or two agencies prior to choosing KidsPeace, and each of them encouraged us to consider our local KidsPeace agency. We did and could not be happier with that choice.
Online searches and phone call conversations are a great start in finding your agency, too, if you don't have anyone with personal experience. We have found that what is extremely important is how you interact with the caseworkers and individuals in the office. Since you will rely on your caseworker a lot during a placement and the staff will be constantly in and out of your home, making sure you get a long and trust them is essential.  Caseworkers with huge caseloads and a very large staff in one office are red flags for us. We have found success with a small office that gives off the "Cheers" vibe of "where everyone knows your name." In this case, everyone knows everything about you, your family, and your foster children.
Another important piece to look at when considering an agency is the support they can provide you and your family. Some agencies have in house lawyers or therapists, which can be very helpful should a placement move to adoption or a placement cause disruption in your home and you need extra support.  Extra financial supports are helpful, too, for clothes or travel expenses.
And though there are some really exceptional agencies out there, it is always important to keep a good attitude and open mind when searching and ultimately working with one.
Remember that there is no perfect person or agency, but trust that each individual is doing their best in a very difficult and emotional world. Without our caseworkers or staff, we couldn't do foster care. Be kind and compassionate and keep communication wide open.