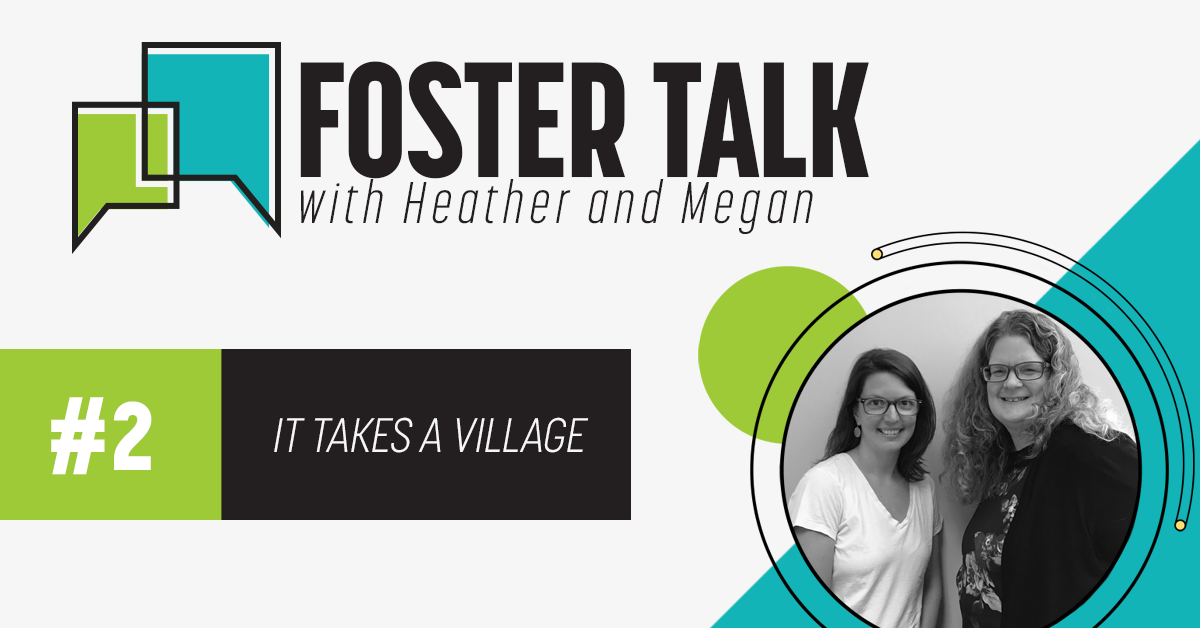 Heather Moore is the regional manager for KidsPeace Foster Care in southeast Pennsylvania and a foster parent; Megan Craig is a foster parent based in Doylestown, PA. 
In this Foster Talk discussion, they reflect on the saying "It takes a village" – and how true it is when it comes to foster parenting.
Megan
It wasn't until we were almost finished with our foster care training that we began to tell people about our new journey. We told our extended family first, then friends, then our broader community of neighbors. After all, this was a decision that really only affected our little family, so it didn't matter if others cared or not. Or so we thought.
The response was so eye opening that I started to realize foster care isn't really about just ourcommitment to helping kids, but really about us ANDour village.
Sure, there were a few responses that were less than supportive, but I expected that. I think it's natural to protect yourself and those you care about with caution and distance when you don't understand a situation fully.  And quite honestly, those responses were so overshadowed by the supportive ones that I could easily brush them off and move on.
Our village that did surround us was admittedly unexpected. And, at first, we were reluctant to welcome this village in because we didn't want to burden anyone. We naively thought that this personal decision was ours to bear, heartbreak and difficult talks to our children and all.  What we didn't fully understand, though, was that the people who wanted to join us and support us in our journey were also making a personal and intentional decision. People don't stick around unless they choose to. 
Our village has quickly proven itself in these last two plus years of our foster care journey. I am not sure I fully prepared myself for this aspect of foster care, nor did I realize how completely vital they have been for us – ALL of us. 
Our village has asked us to educate our church community which resulted in a family service event to pack first night bags for our agency to distribute to new placements.

Our village has let me talk (and talk) about my worries for pending reunifications and then have sighed big sighs of relief alongside me when those reunifications were successful.

Our village has taken our babies who don't sleep through the night so my husband and I could go away for a weekend trip.

Our village has covered my husband at work without any thought so he could race to the hospital when a new placement was being admitted.

Our village has dropped everything to care for our placements so I could be with my sick mother in the hospital.

Our village has played with our placements and included all the children in our home at birthday parties or social events.

Our village has flooded our phones with texts on court dates.

Our village has talked to their children about hard things and encouraged their children to get close to our temporary placements, allowing ever so necessary friendships to develop.

Our village has been a grandfather, friend, cousin, and neighbor to our placements — a person in their life they never would have had. Our village hasn't treated us or anyone in our home differently.
We are so grateful for our village, near and far, for their persistence in making us realize how we couldn't really do this alone. It has shown all of us in our home – children and adults, alike – what really makes a family.
Heather
As an adoptive parent whose kids came into my life when they were four and six years old (they are now 18 and 20 years old) I have been pleasantly surprised at my unexpected village. 
When my youngest son was asked to leave his summer program due to his behavior, I called his old principal (someone who really understood him) and she connected me to a teacher's mother who ran an in-home daycare near my work.  He had an amazing summer swimming in her pool, learning how to cook and relaxing. 
There have been countless daycare teachers, school aides and counselors who were sitters while I attended therapy with his older brother.  One daycare teacher was the only one who could calm him down when he was upset.  When he was struggling, the director decided to move this teacher to his room.  This decision and flexibility allowed him to be able to stay at the daycare until he was 12 and ready to be home alone after school. This teacher became one of the biggest members of my village because he felt safe with her and was able to show his best behavior. 
The newest member of my village is the boss for my youngest son.  He currently has his first job (he has been there a year) and has been extremely successful.  My son was able to share his challenges in his interview.  This manager was able to accommodate his challenges and help him to feel success in a typical work environment.  My son now requires no accommodations and is able to perform his job just like his typical coworkers. 
When you are a KidsPeace foster parent, our staff become part of your village, because their role is to support you and guide you on this journey. Everyone in the office knows and cares for the foster parents and the kids. We are there if you need to vent after a challenging time, celebrate success and educate on topics that will help you in the foster parent journey.
I encourage all families to look to those professionals who surround and support you and your child and ask them to become part of your village.  I know that I could not have done this journey without my village.